Giamaica Caffè India Cherry A (1 kg)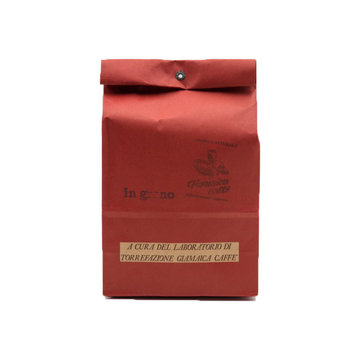 click on image for larger picture
¤ 25,00
VAT included

delivery time 3-6 days
(2 x 0.5 kg Bags of Coffee Beans)
The indication 'India Cherry' describes a natural Arabic coffee blend, where only the mature cherries are scrupulously chosen. This activity takes place in the south of India, in an area of major virtue known as 'Plantation'.
The old botanic variety of Kent and the new varieties of Catimor and Catarrh are employed and collected during November, January and February each year.
In particular, the 'A' mark signifies a further and deeper selection of the coffee obtained through optical reader with a final output of approximately 80 kg per quintal.
The Indian Cherry A expresses the perfume and sweetness as its main characteristics. Since many years the roasting laboratory of Giamaica Caffè prepares a pure blend. It's toasted in the 'tonaca di frate' (priest's cassock) using the latest roaster 'Vittoria a Fiamma Diretta', only working machine of its type in the world. This system transforms the product (60 kg sack of coffee at a time) by direct exposure to an aspirated flame inside the 'tamburo basculante'
This method, always used by this roaster, lives on for the fourth generation.