Nemox Gelato 5K SC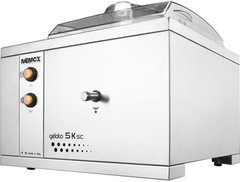 click on image for larger picture
¤ 3.399,00
coupon
please enter it at checkout
VAT included, plus shipping
The Italian manufacturer Nemox offers a wide range of professional ice machines. Nemox was founded in 1986, since then over 6,000,000 ice machines have rolled off the assembly line.
In the professional area for ice cream parlors, bars and restaurants, the Nemox Gelato series offers everything the ice cream heart desires. Such as the Nemox Gelato 6K CREA and the Nemox Gelato 5K SC, for the preparation of delicious ice cream.
The Musso Pola Chef is also suitable for smaller restaurants or bars.
The Gelato 5K SC is the "must have" countertop machine for restaurants world-wide.
Functional, powerful, fast and convenient, it grants the highest quality in gelato/ice cream and sorbet preparation.
Continuous operating capability allows rapid production of several different flavours.
The machine body is entirely made of stainless steel, like the mixer blade, featuring replaceable inserts.
Magnetic safety device: when the lid is lifted, the paddle stops automatically.
Refrigeration and paddle switch
Density control: stops the mixing motor when the mixing effort is excessive.
Stainless steel paddle with adjustable scrapers
Drain system for easy cleaning.
Air cooling.
Produce
- 5,00 Kg (7.4 Qt) / h
- 1,25 Kg (1,3 Qt) / Cycle
dim. 465x480x395h mm
ART 0038240250
EAN 8024872138281