Isomac - Tea PID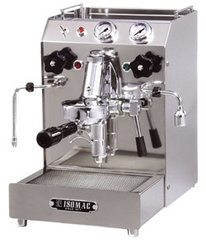 click on image for larger picture
¤ 1.189,00
coupon
please enter it at checkout
22% OFF IF VAT REGISTERED IN THE EU, VAT FREE TO ALL NON-EU COUNTRIES - (more info) NET PRICES, YOU PAY WHAT YOU SEE - NO ADDITIONAL FEE OR TAX
Isomac TEA "TWO"
(New boiler in stainless steel)
Isomac does not only have one flagship-but several. The
Isomac Tea
is definitely one of them. You can use Tea to steam milk and make espresso at the same time. There is always plenty of steam in the spout, at the same time as the machine is ready to brew the perfect espresso, at the right temperature. With the help of the manometer you can follow the pressure of the boiler close up, at the same time as you keep an eye in the steam spout. On request available with water main connection.
Height: 400 mm
Width: 270 mm
Depth: 435 mm
Weight: 21 kg
Pump: 12–14 Atm
Tank: 3 l
Power: 1400 W
Voltage: 230 V - 50 hHz