Lavazza Espresso Famiglia, ground roasted coffee, 20 x 250 g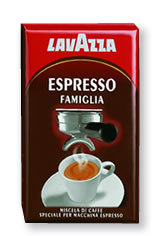 click on image for larger picture
¤ 119,00
coupon
please enter it at checkout
22% OFF IF VAT REGISTERED IN THE EU, VAT FREE TO ALL NON-EU COUNTRIES - (more info) NET PRICES, YOU PAY WHAT YOU SEE - NO ADDITIONAL FEE OR TAX

20 bags of Lavazza ground roasted coffee, 250 g each for a total of 5 kg.
The Espresso Famiglia blend has the same basic characteristics as Lavazza's foodservice blends and is specifically intended for home espresso machines. With its slow and gradual roast and very fine grinding, Espresso Famiglia makes a full-bodied, creamy, aromatic and unmistakably fragrant espresso for those who love coffee.
The blend includes carefully selected coffees, a percentage of Brazilian arabicas giving a delicate and chocolaty flavour, highly aromatic Central American arabicas, and finally, a small quantity of Indonesian coffees that give the blend a rounder and fuller-bodied taste.

you may also be interested in following products: