Lavazza Qualita' Oro, ground roasted coffee, 20 x 250 g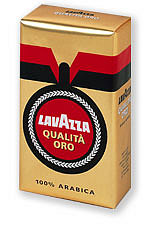 click on image for larger picture
¤ 119,00
coupon
please enter it at checkout
22% OFF IF VAT REGISTERED IN THE EU, VAT FREE TO ALL NON-EU COUNTRIES - (more info) NET PRICES, YOU PAY WHAT YOU SEE - NO ADDITIONAL FEE OR TAX

20 bags of Lavazza ground roasted coffee, 250 g each for a total of 5 kg.
The historical Lavazza blend of 100% Arabica, combines prestigious coffees from Central America with some African varieties distinguished for their intense aroma.
The roasting cycle that Lavazza technicians have created for Qualità Oro further enhances the blend's natural characteristic without neglecting that full body taste that the Italian consumer demands. That is why the aroma of Qualità Oro is always so distinct and recognisable.
Qualità Oro's character is tempered by the pleasant floral hint which is typical of the Central American coffees use. A fine blend, excellent at any time of the day and ideal to finish off a meal to enjoy its long lasting intense after-taste.

you may also be interested in following products: