Lavazza - coffee pods of ground coffee, 10 x 18 servings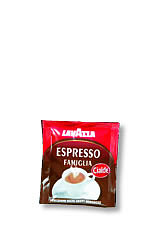 click on image for larger picture
¤ 69,00
coupon
please enter it at checkout
22% OFF IF VAT REGISTERED IN THE EU, VAT FREE TO ALL NON-EU COUNTRIES - (more info) NET PRICES, YOU PAY WHAT YOU SEE - NO ADDITIONAL FEE OR TAX

18 coffee pods of ground coffee, 10 boxes for total of 180 servings.
The latest from Lavazza: all the aroma and creaminess of Espresso family in 18 pods, individually packed single servings, specially designed for the espresso E.S.E. machine.
The easy fast way to make a coffee at home as perfect as in a café: thanks to the practical single serving all the aroma remains intact, the dose is always perfect and cleaning the filter is simple, just remove the pod.
The basic blend is made of a high percentage of Arabica to give a full bodied flavour which guarantees your espresso is always creamy with an intense aroma.