Nemox Gelato Pro 1700 UP - red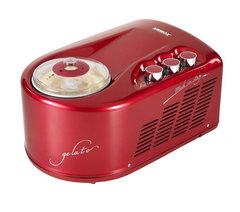 click on image for larger picture
¤ 999,00
coupon
please enter it at checkout
22% OFF IF VAT REGISTERED IN THE EU, VAT FREE TO ALL NON-EU COUNTRIES - (more info) NET PRICES, YOU PAY WHAT YOU SEE - NO ADDITIONAL FEE OR TAX
Nemox Gelato Pro1700 Up –the new features, the ultimate 50s design.
- Prepare and pour the ingredients, start the machine. That's all !
- Gelato Pro 1700 churns, stirs and makes it all for you!
- When your Gelato is ready an exclusive electronic control keeps it mixed and at the right temperature as long as needed.
- The lid has a feature to adjust the amount of air and change the consistency of the ice cream.
- A more powerful refrigeration system allows preparation in an even shorter time and with outstanding results Gelato, Sorbets and Frozen Yogurt.
- Gelato Pro 1700 also works on manual mode to leave room for your creativity.
- State of the art design, beautiful, in a sturdy aluminium body.
- Comes with a large 1.7 l. (1.9 Qt) capacity aluminium removable bowl and an ice cream spatula.
- The refrigeration system complies with environmental regulations protecting the ozone layer.
- A triple step varnish painting, provides a scratch resistant surface for the aluminum body.
-The trendy colors and the overall design of the body and switches make the GELATO PRO 1700 Up an desirable piece of interior design.
Product video