Nemox Gelato Chef 2500 Plus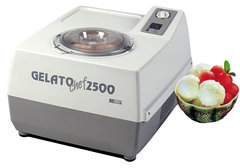 click on image for larger picture
¤ 890,00
coupon
please enter it at checkout
22% OFF IF VAT REGISTERED IN THE EU, VAT FREE TO ALL NON-EU COUNTRIES - (more info) NET PRICES, YOU PAY WHAT YOU SEE - NO ADDITIONAL FEE OR TAX
Nemox Gelato Chef 2500 Plus

GELATO CHEF 2500 Automatic. Professional Quality and Performances.

For those who like to have the best and … even more

A professional appliance for preparing 2.5 litres ices cream, sorbet and granita of superb quality. Preparations can be obtained either in the fixed stainless steel bowl or in the removable aluminum bowl delivered with the machine. The use of the removable bowl allows preparing different flavours in a short time. Innovative and elegant design. Maximum level of reliability. When the lid is removed, the paddle stops automatically. The body is in attractive hardwearing plastic.

Mechanic 60' timer- Suitable for continuous use, it allows preparing 2 Kg. ice cream per hour.
TECHNICAL SPECIFICATIONS

Rating

230V 50 Hz 220W
120V 60 Hz 220W

Thermal cut-out: refrigerating and mixing unit

*

Compressor unit

6,00 cc

Forced ventilation

*

Reduction gear box

*

Paddle induction motor

RPM 63

Safety catch device (paddle stops when lid is opened)

*

AISI 304 stainless steel fixed bowl

2,5 l

Aluminium removable bowl

2,5 l

Max. quantity of ingredients

1,25 Kg

Churning time

20 - 40 min

Paddle mechanic timer

60 min

Appliance body

ABS

Dimensions (W/D/H)

42x37x30 cm

Weight

15,5 Kg.

Ice cream spoon

*

Instruction book / Recipe book

*

Coloured gift box

60x50x40 cm - 18 kg