Nemox Gelato Chef 5L AUTOMATIC i-Green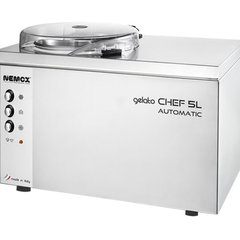 click on image for larger picture
¤ 1.890,00
coupon
please enter it at checkout
VAT included, plus shipping
VAT-FREE FOR ALL COUNTRIES OUTSIDE the EU and UK: Just insert the number 123456789 into the company Vat field in the order form. You will see your VAT-FREE amount (-22%) at the checkout. IMPORTANT: Although you will save the Italian VAT when ordering, you will be required to pay local taxes and duties at delivery in your country. Please check your local taxes before placing your order.
POWER PLUGS: all shipments to the UK and Ireland with plug adapter (BEAB approved), all other international shipments with standard European plug (you just need to buy local adapter plug).
The ice machine manufacturer Nemox from Italy is known worldwide for its quality. Professional or household use, Nemox is the right place for you. Nemox was founded in 1986, since then over 6,000,000 ice machines have rolled off the assembly line.
The series Nemox Gelatopro 1700 and Nemox Gelato NXT1 are particularly popular for ice cream in households. In the professional area for ice cream parlors, bars and restaurants, the Nemox Gelato series offers everything the ice cream heart desires. Making ice cream yourself made easy.
Nemox Gelato Chef 5L, the compact gelato machine for professional use, with stainless steel removable bowl and storage function.
Gelato 5L AUTOMATIC prepare your gelato and, when ready, it will store your preparation at the right temperature as long as you wish!
You can process up to 1 kg (1 qt) of mixture in 20-30 minutes, using either the fixed bowl made of 18/10 stainless steel or the handy removable bowl in stainless steel with handle for easier removal. The refrigeration and blending systems are designed for long work cycles.
The magnetic safety device automatically stops the paddle when the lid is lifted.


Electronic control. The software developed by Nemox allows to control the density of your gelato. It automatically stops the mixing motor as soon as the mixing effort becomes excessive and starts the storage function.


The blade is made of stainless steel with removable scrapers to ensure hygiene and strength. The machine body is entirely made of stainless steel.
Appliance Dimensions 450X320X315 mm
Net Weight 20 kg
Production per cycle Every 20-30 minutes 1kg (1 qt)
Production per hour 2 kg / 3,2l.
Shipping Carton
600X510X1385 mm
Gross weight 22 kg
Ean 8024872131268