Nuova Simonelli Grinder MCF - red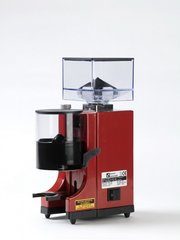 click on image for larger picture
¤ 449,00
coupon
please enter it at checkout
VAT included, plus shipping
VAT-FREE FOR ALL COUNTRIES OUTSIDE the EU and UK: Just insert the number 123456789 into the company Vat field in the order form. You will see your VAT-FREE amount (-22%) at the checkout. IMPORTANT: Although you will save the Italian VAT when ordering, you will be required to pay local taxes and duties at delivery in your country. Please check your local taxes before placing your order.
POWER PLUGS: all shipments to the UK and Ireland with plug adapter (BEAB approved), all other international shipments with standard European plug (you just need to buy local adapter plug).
Nuova Simonelli's espresso machines are masterpieces of the Italian coffee world. With Nuova Simonelli's products, innovations such as the pre-brewing system and volume programming guarantee an authentic Italian coffee. The design is like a fine work of art. Nuova Simonelli has a tradition since 1936 and many enthusiastic customers around the world. The Musica and Oscar II lines are particularly popular. The combination with the right grinder is available as a combo offer in our shop.
Where is required reliability and quality, the model MCF by Nuova Simonelli built according to the same rigid specific of the greatest brothers (professional products), but very smaller, and with a production rate of 5 kg/h, it makes interesting for places that serve decaffeinated in grains, over that naturally for family use.
SPECIFICATIONS:
- Body: pressure die-casted alluminium alloy painted.
- Grinding stones: in hardened steel diameter 50 mm.
- Motor: monophase 220V 50Hz with overload cutout.
- Batcher: non-toxic material for foodstuffs.
- Base: in flameproof ABS .
- Grinding: micrometer grinding control without set stop (patented).
- Coffee bean holder: in Kostil for foodstuffs.
- Capacity: approx 0,25 Kg.
- Prodution rate: ~5 Kg/h
- Weight: ~4,5 Kg
- Dimension: mm 200x105x310

you may also be interested in following products: