Nuova Simonelli Grinder MDH - black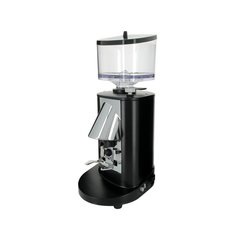 click on image for larger picture
¤ 459,00
coupon
please enter it at checkout
Nuova Simonelli's espresso machines are masterpieces of the Italian coffee world.
With Nuova Simonelli's products, innovations such as the pre-brewing system and volume programming guarantee an authentic Italian coffee. The design is like a fine work of art.
Nuova Simonelli has a tradition since 1936 and many enthusiastic customers around the world.
The Musica and Oscar II lines are particularly popular. The combination with the right grinder is available as a combo offer in our shop.
Small outside, big inside.
Mdh is a small grinder, but with a professional heart. This is the identity of MDH,
the new compact coffee grinder by Nuova Simonelli.
Suitable for: professional use, single origins or decaffeinated (up to 500 g/day) and home or office use.
Technical data
Sylos (kg): 0,5
Burrs (mm): 50
Voltage (Volt): 110/220V
Power (Watt): 260
Features
Transparent bean hopper (0,5Kg)
Micrometric grinding regulation
Stainless steel burrs
Filter holder hhook
Advantages
Silent technology
The Silent technology, which eliminates vibrations, is adopted for the first time also for semiprofessional grinders and combines the pleasure of a good espresso with the well-being of a silent environment.
Maximum precision
MDH, like the finest professional New Simonelli grinders, features a micrometric grinding adjustment system that guarantees maximum flexibility and greater precision.
Power and performance
MDH is equipped with a 900 W motor that guarantees a powerful and uniform grinding. Its flat 50 mm steel alloy grinders provide high performance, constant over time.
Micrometric grinding adjustment
MDH on demand allows precise grind adjustment.

you may also be interested in following products: