Nuova Simonelli Musica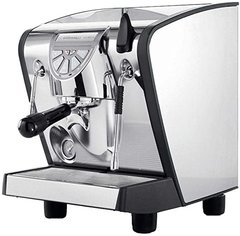 click on image for larger picture
¤ 1.459,00
coupon
please enter it at checkout
Nuova Simonelli's espresso machines are masterpieces of the Italian coffee world.
With Nuova Simonelli's products, innovations such as the pre-brewing system and volume programming guarantee an authentic Italian coffee. The design is like a fine work of art.
Nuova Simonelli has a tradition since 1936 and many enthusiastic customers around the world.
The Musica and Oscar II lines are particularly popular. The combination with the right grinder is available as a combo offer in our shop.
Musica devoted to you; devoted to whom desires the espresso either at home, in the office, in the small communities or in the BB like at the bar.. Its name is Musica and it is the new espresso machine that Nuova Simonelli is presenting for the top end of the domestic market. Musica is also an entry-level machine for the professional market and it is able to serve over 60 cups a day.
User
With Musica and with great expectations, Nuova Simonelli will be taking its rightful place in the home and office segment with a product designed for professional users and coffee enthusiasts.
Benefit
Musica is a professional machine with volumetric dosage, available in the versions with tank or for direct mains connection, created to meet the needs of both domestic and professional markets. A 2-litre boiler tank (made entirely in copper with heat insulation) guarantees excellent steam production for preparing excellent cappuccinos. Manual gauge for boiler tank temperature and pressure.
- Group semiprofessional coffee in chromed brass;
- 2 liters boiler in copper;
- circulation interchange termosifonic in copper (HX), the water disbursed for the coffee is not to direct contact with the water of the boiler but warms through a heat exchanger in copper. The water's temperature in the boiler is constantly regulated to 120°C through an electronic circuit, this it allows to always have a continuous vapor to do savory and creamy cappuccino or to heat water;
- the pouring group is thermo compensated and has a pre-infusion system that allows all of the noble substances in the coffee to be extracted to the full;
- professional filter holder in brass chromed of the weight of 550 grams;
- hot water nozzle to prepare other types of hot beverage;
- steam wand switable 360°;
- visible pressure gauge for checking pressure in the boiler tank;
- volumetric dosing can store uo to 3 different dose setting;
- elegant button pad with backlit soft-touch buttons;
- 3 Liters water tank container for the automatic filling of the boiler (when the boiler water level drops the electronic circuit will start the pump to fill the water is consumed, if the tank is empty the same unit will inhibit all the functions of the machine);
- Cupholder;
- Body stainless steel;
- Width cm 32, Height cm 43, Depth cm 40;
- Weight 20 Kg.
Included Accessories: 1 Filter holder complete with 2 ways nozzle , 1 way nozzle, 1 two cup filter, 1 single cup filter, 1 coffee measure, 1 tamper, 2 group gasket spare part