Imperia I.P.S. Pasta Presto mod 700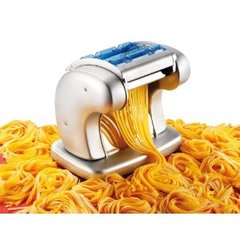 click on image for larger picture
¤ 289,00


list price ¤ 349,00 (-17%)
coupon
please enter it at checkout
22% OFF IF VAT REGISTERED IN THE EU, VAT FREE TO ALL NON-EU COUNTRIES - (more info) NET PRICES, YOU PAY WHAT YOU SEE - NO ADDITIONAL FEE OR TAX
With motor! All-in-one pasta machine!

The non-stick coating guarantees safe and clean pasta. The built in motor allows you to have your own fresh homemade pasta Italian style PRESTO.

In few minutes you'll be able to stretch the dough from thick to thin. Just turn the thickness setting knob and the cut the sheet in Tagliatelle or Fettuccine.

Pasta sheet - width: 6 inches/15 cm
The machine comes with the cutters for tagliatelle or fettuccine (they are incorporated into the machine).
Do you want another type of pasta? Just fix one of the Simplex cutter for Spaghetti 2mm diam. Angel Hair 1,5mm - Tagliatelle 2mm Trenette 4mm Fettuccine 6,5mm - Lasagnette 12mm - Pappardelle 32mm Frilled Reginette 12m Frilled Reginette 44mm, The RavioliMaker attachment in two types: for ravioli 30x30mm and ravioli 50x50mm fits just as well so as the Millegnocchi for Gnocchetti Sardi, Cavatelli or Rigatelli.