Stainless Steel/Wood Coffee Tamper - 58 mm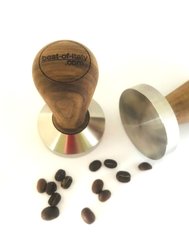 click on image for larger picture
¤ 19,89
coupon
please enter it at checkout
The espresso coffee machines from La Pavoni have almost cult status. The Pavoni lever coffee machines lines Europiccola, Professional and Stradivari offer the right choice for every coffee lover. The exclusive materials and the unmistakable design also make the La Pavoni a stylish piece of furniture.
Stainless Steel/Wood Coffee Tamper - 58 mm
Nice ergonomic design, easy to hold and to use, excellent value for money!