La Pavoni Coffee grinder JDL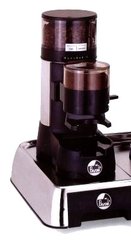 click on image for larger picture
¤ 304,00
coupon
please enter it at checkout
22% OFF IF VAT REGISTERED IN THE EU, VAT FREE TO ALL NON-EU COUNTRIES - (more info) NET PRICES, YOU PAY WHAT YOU SEE - NO ADDITIONAL FEE OR TAX
LA PAVONI - Coffee grinder Jolly Dosing Deluxe JDL


Model: JDL Grinder;
Top container for coffee beans;
Capacity gr. 250;
Motor of 95 W ;
Dimensions: W 5.2 inches - H 12 inches;
The coffee grinder is fitted with a coffee bean hopper of 250 gr. capacity and enables a wide coffee grind adjustment. The container for the ground coffee can be taken out.
The coffee doser grinder is fitted with a dosing device supplying the correct quantity of ground coffee for one cup.
Coffee hopper in poly-carbonate, capacity 250 gr., extractable container for ground coffee in poly-carbonate, base in ABS plastic, cover stripe in polished copper, flat mills diam. 50 mm., grind selector, dosing device with correct ground coffee dose.

Colour: chrome.


you may also be interested in following products: