LA PAVONI Professional Chrome Deluxe PL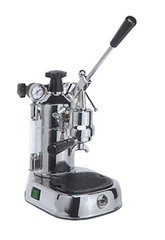 click on image for larger picture
¤ 618,00


list price ¤ 758,00 (-18%)
coupon
please enter it at checkout
22% OFF IF VAT REGISTERED IN THE EU, VAT FREE TO ALL NON-EU COUNTRIES - (more info) NET PRICES, YOU PAY WHAT YOU SEE - NO ADDITIONAL FEE OR TAX
LA PAVONI Professional Chrome Deluxe PL

NEW MODEL WITH LARGER GROUP AND FILTERS FOR IMPROVED TEMPERATURE STABILITY AND ABILITY TO HOLD MORE COFFEE.

Makes 16 cups continuously


Boiler capacity: 1.6 liter
Boiler pressure: 0.7 - 0.8 bar
Steam tap with Cappuccino Automatic
Element: 1000 W
Dimension w x d x h: 20 x 29 x 32 cm
Weight: 5.5 kg
Voltage 230 Volt, 50 Hz
Professional: A combination of style, quality and reliability.
This machine is largely constructed of cast brass and is build to last in time. The large boiler ensures that limescale deposits have a minimal effect meaning minimum maintenance in needed.
In addition to make an espresso ´just as you want it´, this machine is equipped with the new ´Cappuccino Automatic´ attachment which ensures the perfect cappuccino every time. The ´Cappuccino Automatic´ on the opening of a valve automatically sucks the milk directly into the cup.

The Professional has a boiler capacity of 1.6 liters, allowing 16 cups of espresso to be made consecutively.


you may also be interested in following products: