La Pavoni PRH plus Grinder plus Base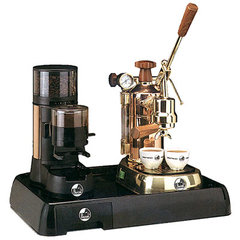 click on image for larger picture
¤ 1.149,00
coupon
please enter it at checkout
22% OFF IF VAT REGISTERED IN THE EU, VAT FREE TO ALL NON-EU COUNTRIES - (more info) NET PRICES, YOU PAY WHAT YOU SEE - NO ADDITIONAL FEE OR TAX
LA PAVONI Special Offer
- PRH plus Grinder plus Base
NEW MODEL WITH LARGER GROUP AND FILTERS
FOR IMPROVED TEMPERATURE STABILITY AND ABILITY TO HOLD MORE COFFEE.
Set of machine and grinder on a base.
JDR Jolly Doser Copper
Coffee hopper in poly-carbonate, capacity 250 gr., extractable container for ground coffee in poly-carbonate, base in ABS plastic, cover stripe in polished copper, flat mills diam. 50 mm., grind selector, dosing device with correct ground coffee dose. Colour: copper.
PRH Professional Copper-Brass wooden handgrips
Model Professional allows 16 cups of espresso to be made consecutively. Brilliant copper boiler, brass group, brass-coated base, safety valve, steam jet interchangeable with Automatic Cappuccino maker, sight glass, manometer handles: lever, filter holder, boiler cap, steam knob in rosewood. Drip tray in ABS plastic, grill for cups in brass.
BN Base for Machine and Grinder - metal black