La Pavoni Stradivari Lusso STL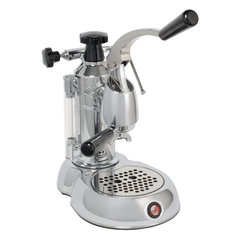 click on image for larger picture
¤ 494,00


list price ¤ 675,00 (-26%)
coupon
please enter it at checkout
The espresso coffee machines from La Pavoni have almost cult status. The Pavoni lever coffee machines lines Europiccola, Professional and Stradivari offer the right choice for every coffee lover. The exclusive materials and the unmistakable design also make the La Pavoni a stylish piece of furniture.
La Pavoni STL Stradivari Lusso
After the success of the model Europiccola (1950) and Professional (1970), comes Stradivari (2005), a machine that synthesizes the purest shape and the most reliable technology thanks to the centenarian experience of La Pavoni.



Makes 8 cups continuously
Boiler capacity: 0.80 liter
Boiler pressure: 0.7 - 0.8 bar
Tank capacity 12 cups
Steam tap with Cappuccino Automatic
Element: 1000 W
Dimension w x d x h: 20 x 29 x 32 cm
Weight: 5 kg
230 Volt, 50 Hz


you may also be interested in following products: