Rancilio Classe 5 S TANK 1 GR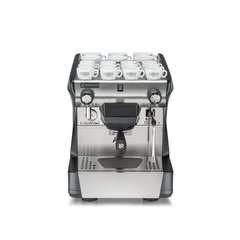 click on image for larger picture
¤ 1.540,00
coupon
please enter it at checkout
VAT included, plus shipping
VAT-FREE FOR ALL COUNTRIES OUTSIDE the EU and UK: Just insert the number 123456789 into the company Vat field in the order form. You will see your VAT-FREE amount (-22%) at the checkout. IMPORTANT: Although you will save the Italian VAT when ordering, you will be required to pay local taxes and duties at delivery in your country. Please check your local taxes before placing your order.
POWER PLUGS: all shipments to the UK and Ireland with plug adapter (BEAB approved), all other international shipments with standard European plug (you just need to buy local adapter plug).
Rancilio was founded in Italy in 1927 and produces high quality portafilter espresso machines and coffee grinders. With innovative technology and excellent design, professional portafilter espresso machines and coffee grinders are created. The Rancilio Silvia has almost cult status.
Rancilio Classe 5 S TANK 1 GR
The Rancilio Classe 5 is equipped with a user-friendly steam system to guarantee the best performance. Milk lance with the C-Lever (Rancilio patent - optional for USB and S versions) Special handle thanks to its open-stay and open-close functions, extremely user-friendly (standard solution). The valve is operated by turning it 25 degrees: if you turn the handle upwards, steam is emitted and the valve remains activated, if you turn it downwards, the intensity of the steam can be adjusted. If you let go of the handle, the valve closes automatically. The manual steam lance youSteam (optional for USB and S versions) offers two functions: heating and frothing the milk. Its ergonomic shape and ease of use guarantee perfect milk foam for excellent cappuccinos at all times.
- Weight 35 kg
- size 54 × 41 × 52 cm
- color black, white
- Boiler / tank 4 l / 2 l
- Boiler power 1600W (120V) -1700W
- Voltage 220-240V
- Frequency 50/60 Hz
- Fixed water supply, tank