Rocket Espresso R58 - 110 V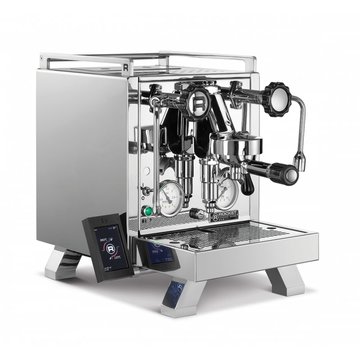 click on image for larger picture
¤ 2.490,00
VAT included
¤ 2.040,98
VAT free

delivery time 3-6 days
VAT-FREE delivery to all 110 Volt countries. Just insert 123456789 into the Vat number field in order form. You will see the Vat-free amount (-22%) at checkout before you confirm your order. You will be required to pay local taxes and duties at delivery in your country. Please check your local taxes before placing your order.
POWER PLUGS: all shipments with USA 110 volt plug.
WARRANTY (2 years): Best of Italy covers all costs, including transport.
The ultra-modern and noble coffee machines and coffee grinders from Rocket are produced in Milan in the best Italian craft tradition. All machines are made by hand, the attention to detail and the classic award-winning design are impressive.

The Rocket Espresso Appartamento models and the R58 model, which can be controlled via a PID software interface, receive special recognition.
NO ROCKET DELIVERIES to USA and CANADA

Two independently operated PID-controlled boilers enable the optimal extraction of each type of coffee or type of roast. Rocket Espresso inclined boiler technology means precise group temperature setting and unparalleled temperature stability. A commercially available rotary pump draws from the machine's internal water reservoir or allows the machine to have a direct water connection from the water supply. Machine functions are controlled via the touchscreen communications pod, which now includes an auto on/off feature. Your machine is always ready when you need coffee. The communication canister can be easily removed from the machine to maintain the Rocket Espresso aesthetic.
Shottimer: shows the run time
New PID controller, can also be removed at any time to get a rudimentary look without a digital display.
Country of manufacture: Italy
Device name: R CINQUANTOTTO (R58)
Device type: Dual boiler / PID control
Pressure gauges: 3 bar boiler pressure gauge and 16 bar pump pressure gauge
Operation: manual lever operation for the brewing process
Boiler & heating: Coffee kettle with a volume of 0.58 l and insulated on the outside
Steam/hot water kettle 1.7l made of copper
Pump: rotary pump
Brewing group: Faema E61 brass/chromed
Case: stainless steel, high gloss polished
Water supply: 2.9 l water tank with suction valve and fixed water connection (switchable)
Dimensions: W: 310mm, H: 385mm, D: 440mm Weight: 29 kg

Included in delivery:
PID module, 2 portafilters, 2 sieve inserts, 1 aluminum tamper, 1 cleaning brush, 1 cleaning blind sieve, 1 measuring spoon, operating instructions, stainless steel hose for mains water connection

you may also be interested in following products: