Stainless Steel/Wood Coffee Tamper - 58 mm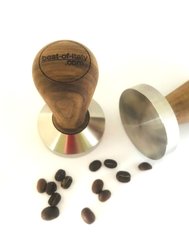 click on image for larger picture
¤ 19,89
coupon
please enter it at checkout
The ultra-modern and noble coffee machines and coffee grinders from Rocket are produced in Milan in the best Italian craft tradition. All machines are made by hand, the attention to detail and the classic award-winning design are impressive.
The Rocket Espresso Appartamento models and the R58 model, which can be controlled via a PID software interface, receive special recognition.
Stainless Steel/Wood Coffee Tamper - 58 mm
Nice ergonomic design, easy to hold and to use, excellent value for money!