Rocket Cellini Evoluzione V2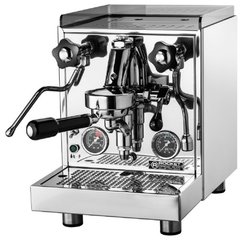 click on image for larger picture
¤ 1.595,00
coupon
please enter it at checkout
22% OFF IF VAT REGISTERED IN THE EU, VAT FREE TO ALL NON-EU COUNTRIES - (more info) NET PRICES, YOU PAY WHAT YOU SEE - NO ADDITIONAL FEE OR TAX
The Rocket Espresso Evoluzione further develops espresso machines design with the addition of the a rotary pump. The rotary pump, combined with the Rocket Espresso 2.9 liter water reservoir system or alternatively the ability to connect this machine range directly to a mains water supply, now delivers a premium domestic espresso machine that is the equal of any commercial espresso machine. Features include externally adjustable pump pressure for fine tuning extraction rates and Sirai commercial grade pressure stat's for greater temperature control and stability.
Rocket Espresso completes the Evoluzione range using our proven thermo siphon system and nickel plated boiler to enable the Barista to produce the finest possible espresso.
TECHNICAL INFORMATION
-Bodywork : All stainless steel (AISI 304) Brewing head : commercial brewing head :weight 4.05 kg
-Pre-Infusion : dual pre-infusion system : mechanical pre-infusion system with progressively working piston and static pre-infusion chamber . This reflects into smooth coffee extraction with optimum aroma,body and crema.
-Pump type : Full commercial rotary type pump with external pressure adjustment Boiler : Boiler is made of pure copper with a lead free heavy brass end plate to increase the thermal retention and the steam power by approx 40% versus other boiler systems .Boiler is nickel plated for protection against copper oxidation.
- Boiler capacity 1,8lt
Stainless Steel Steam Wand : with our cool-touch technology :anti-burn (only the nozzle gets hot);easy cleaning as milk does not bake on wand more efficient steam,as heat is not dissipated around the wand . Steam nozzle designed for easy milk foaming with fine texture.
- Electronically controlled : microprocessor controlled automatic level control of coffee water boiler, service boiler and fresh water reservoir, with low water level indication system
-Heating: Optimised boiler capacity to thermossyphon system ratio. Results in fast heat uptime with 1200 Watt element ,made from special long life material
-Safety valve : Fully certified commercially rated safety valve
-Water supply : 2.9 litre fresh water reservoir or alternatively direct water connection (hard plumbed) with full drip tray drainage system.
-Dimensions (WxDxH) 30 cm x42.5 cm x 35 cm
Weight 23kg Additionally : full size commercial one and two cup filter handles and baskets . .Metal tamper ..Full training guide and instructions

you may also be interested in following products: