Rocket Espresso R58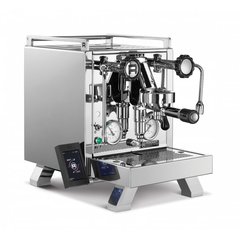 click on image for larger picture
¤ 2.550,00
coupon
please enter it at checkout
VAT included, plus shipping
VAT-FREE FOR ALL COUNTRIES OUTSIDE the EU and UK: Just insert the number 123456789 into the company Vat field in the order form. You will see your VAT-FREE amount (-22%) at the checkout. IMPORTANT: Although you will save the Italian VAT when ordering, you will be required to pay local taxes and duties at delivery in your country. Please check your local taxes before placing your order.
POWER PLUGS: all shipments to the UK and Ireland with plug adapter (BEAB approved), all other international shipments with standard European plug (you just need to buy local adapter plug).
The ultra-modern and noble coffee machines and coffee grinders from Rocket are produced in Milan in the best Italian craft tradition. All machines are made by hand, the attention to detail and the classic award-winning design are impressive.
The Rocket Espresso Appartamento models and the R58 model, which can be controlled via a PID software interface, receive special recognition.
Rocket Espresso R58

Introducing the R "Cinquantotto".
Cinquantotto means 58, the new R 58 from Rocket Espresso.
Dual independently operated PID controlled boilers allowing for optimum extraction of any coffee type or roast style.
Rocket Espresso inclined boiler technology means precise group temperature adjustment and unprecedented levels of temperature stability.
Commercial grade rotary pump draws from the machines internal water reservoir or allows for the machine to have a direct water connection from the water supply.
Machine functions are controlled from the Rocket Espresso communication pod that plugs into the side of the R 58. The pod can be removed to preserve the style of the machine that is Rocket Espresso

you may also be interested in following products: