Segafredo Intermezzo, whole coffee beans, 8 kg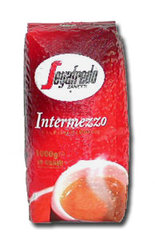 click on image for larger picture
¤ 119,00
coupon
please enter it at checkout
22% OFF IF VAT REGISTERED IN THE EU, VAT FREE TO ALL NON-EU COUNTRIES - (more info) NET PRICES, YOU PAY WHAT YOU SEE - NO ADDITIONAL FEE OR TAX
Segafredo - Intermezzo, 8 x 1 kg coffee beans, total 8 kg

From the bar leader the Intermezzo and Espresso Home beans.
Blends with a unique taste for coffee lovers, who love to grind the coffee at home in order to enjoy the whole aroma and fragrance.

You may use these with super-automatic coffee makers at home.

It's a characteristic blend for a coffee full of taste and energy which makes every moment of the day more pleasant, from morning breakfast to a break during which you can enjoy this quality coffee.

you may also be interested in following products: