969.coffee Elba Mini Solo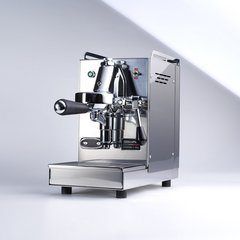 click on image for larger picture
£ 985


list price £ 1.109 (-11%)
coupon
please enter it at checkout
SPECIAL! VAT included, plus shipping
VAT-FREE FOR ALL COUNTRIES OUTSIDE the EU and UK: Just insert the number 123456789 into the company Vat field in the order form. You will see your VAT-FREE amount (-22%) at the checkout. IMPORTANT: Although you will save the Italian VAT when ordering, you will be required to pay local taxes and duties at delivery in your country. Please check your local taxes before placing your order.
POWER PLUGS: all shipments to the UK and Ireland with plug adapter (BEAB approved), all other international shipments with standard European plug (you just need to buy local adapter plug).
969.coffee Elba Mini Solo
Professional household espresso coffee maker
- Stainless steel body
- PID for control and temperature setting
- Stainless steel water tank removable from the sides
- One-circuit thermosiphon system
- Stainless steel insulated boiler
- Black plastic portafilter and accessories
- Dimensions 20 x 40 x 33 cm.
- Boiler according to 0.85
- weight kg. 20.00
- 230 / 1,200 (V / W)
- Water tank capacity l. 2.00

you may also be interested in following products: