Elektra Verve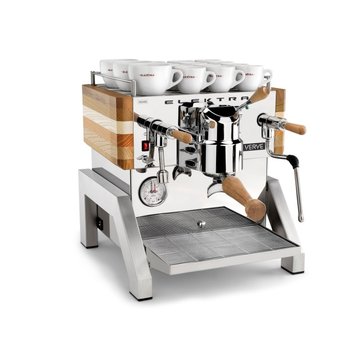 click on image for larger picture
£ 2.669,00
VAT included
£ 2.187,70
VAT free

delivery time 3-6 days
Leader in the design, production and distribution of high quality Espresso coffee machines. Elektra is committed to implementing a responsible business strategy that respects people and the environment.
Verve is an extremely versatile espresso machine.
The professional performance and compact size allow it to be used within the home, small cafes, recreational or work environments, even on the move. Virtually everywhere.
Description:
Elektra Verve is the result of a research. It is a style. It is a way of being that gives freedom of expression to every coffee lover.
1 Group
Integrated 5 liter tank
Steam Boiler Capacity 1.6 L
Group boiler cc 140
Pre-infusion (0 to 20 seconds)
Voltage V 230-115
Frequency Hz 50/60
Boiler power W 1000
Power Group W 600
Rotary Pump
Features:
Double Boiler - Independent coffee and steam boiler
Dry Steam - Stainless steel boiler dedicated to steam
Flexibility of use - Water mains or integrated 5l tank
WiFi connection - Setting settings via Smartphone
Professional Kit - Rotary pump and professional group
Refined materials - Stainless steel body + wooden panels

Dimensions:

Length: 380 mm
Width: 449 mm
Height: 425 mm

Weight: 34 kg