Eureka Atom - black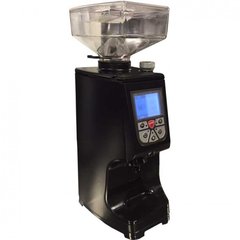 click on image for larger picture
£ 594
coupon
please enter it at checkout
VAT included, plus shipping
Eureka is a company with a long tradition from Florence. Eureka has been producing coffee grinders since 1920 and is now the world's leading manufacturer. Elegant design, innovative construction and technology, that is the Eureka coffee grinder's recipe for success. All Eureka coffee grinders are made by hand, a fine example of Made in Italy.
Eureka Atom
Eureka lives up to their namesake with another inspired grinder—the Atom! Instead of focusing on speed, (though it's quite fast) consistency, (though it has fantastic espresso distribution) or ease of use (though it is, in fact, easy) Eureka has shifted focus into making a truly quiet grinder. This is the grinder for a house of light sleepers, apartment complexes or romantic cafés. Short of a hand grinder or a hiding place in the garage, you'll be hard-pressed to find a quieter espresso grinder on the market. This marked dedication to sound insulation pairs with fine stepless grind controls, time-based dosing and an easy-cleaning design shared with other Eureka-designed grinders.
Features and Functionality
· 60mm Flat Burrs - Large burrs make short work of pulverizing beans into a uniform distribution.
· Sound Insulation - A metal case and a design dedicated to quiet motor and burr sounds make the Atom a great choice for quiet spaces.
· Timer Based Dosing - Set grind times for both single or double shots.
· Removable Bean Hopper - Boxy like the rest of the grinder, the Atom's hopper is easily removable for cleaning and maintenance.
· Manual Pulse Grind - Grind on demand with a dedicated pulse brew button or the portafilter button.
· Portafilter or Basket - The Atom comes with a dedicated grounds bin for drip or pour over preparations.
· Stepless Adjustment - With nearly infinite burr settings, the Atom offers fine control over grind size.
· Digital Screen - An easy-to-read digital screen makes set up and control even easier.
· Removable Top Burr - The top burr of the Atom is easily removable for cleaning and maintenance.
· Bottom Burr Adjust - Adjustments happen at the lower burr, so your grind setting will be saved after cleaning.
Specs
| | |
| --- | --- |
| Manufacturer | Eureka |
| Width | 7.12 inches |
| Depth | 10.39 inches |
| Height | 17.25 inches |
| Watts | 450 W |
| RPM of Burrs | 1350 |
| Case Material | Aluminum |
| Bean Hopper Capacity | 1.3 pounds |
| Dosing Options | Programmable Dosing Functionality |
| Adjustment Configuration | Stepless - Infinite Settings |
| Grinder Style | Burr - Flat Steel |
| Burr Diameter | 60mm |
| Timer or On/Off Switch | On/Off Switch Only |
| Material | Aluminum |

you may also be interested in following products: