Nemox Gelato Pro 2000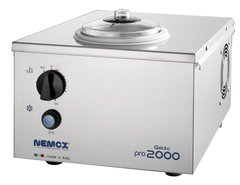 click on image for larger picture
£ 1.002,32


list price £ 1.399,20 (-28%)
coupon
please enter it at checkout
22% OFF IF VAT REGISTERED IN THE EU, VAT FREE TO ALL NON-EU COUNTRIES - (more info) NET PRICES, YOU PAY WHAT YOU SEE - NO ADDITIONAL FEE OR TAX
NEMOX GELATO PRO 2000
The ideal professional machine for getting started in the world of gelato and sorbet. Also ideal for experimenting with new recipe ideas in the pastry world.
- GELATO Pro machines are perfect for use in restaurants, bars and pastry shops that only require limited production needs
- You can process up to 1 kg (1 qt) of mixture in 20-25 minutes, using either the fixed bowl made of 18/10 stainless steel or the handy removable bowl
- GELATO Pro Series machines are equipped with removable bowls allowing for important advantages:
• Time saving:
Remove the bowl and start right away another preparation in the fixed bowl
• Maximum hygiene:
The preparation stays in the removable bowl, cleaning is fast and easy.
• Easy storage:
The removable bowl can be placed directly into the freezer.
- Perfect size :GELATO PRO gelato machines are designed for minimal space requirements. Compact and portable
- This appliance is equipped with a powerful independent refrigeration system with compressor.
- It makes ice-cream for 8-10 people (750 g, 1.1 L. or 1.1 qt) in 25-30 minutes.
- Inner bowl is AISI 304 stainless steel.
- Continuous operating capability allows rapid production of several different flavours.
- The machine body is entirely made of stainless steel, like the mixer blade, featuring replaceable inserts.
- Timer and refrigeration switch
- Sistema airflow: allows to regulate the airflow
Makes 1,5 Kg. (2.3 Qt.) / h
Made in Italy
dim. 340x420x250h mm
ART 0038400250
EAN 8024872139004