Nemox Gelato NXT1 i-Green - green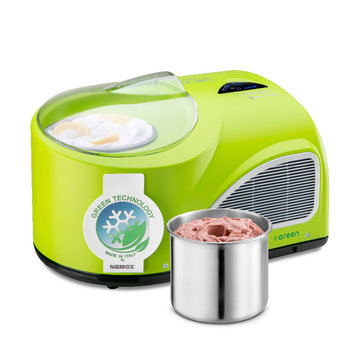 click on image for larger picture
£ 636,65

£ 803,25 (-20%)


VAT included
£ 521,84

£ 658,40 (-20%)


VAT free

delivery time 3-6 days
You don't necessarily have to go to the ice cream parlor to enjoy delicious ice cream in summer. With a suitable ice cream maker from Musso or Nemox, ice cream can be prepared very easily and quickly at home.
If you make your own ice cream, you know exactly what's in it. You can prepare any type and flavor yourself. Cream and milk, some sugar, egg yolk. Those who want to do without animal products use soy, almond or coconut milk.
The bestsellers of our ice cream machines are the Musso Lussino Mini 4080, the Musso Pola Stella Chef, the Nemox Gelatopro 1700 Up and the Nemox Gelato 4K Touch.
Gelato NXT1 The Automatic wins the test for the best compressor ice cream machine among 6 competing ice cream makers. NXT1 the only one produced in Italy.

Gelato NXT1 The i-Green Automatic is the ice cream machine that anticipates the future.

Gelato NXT1 Thanks to the Made in Italy technology, the i-Green Automatic allows you to obtain twice as much ice cream and in half the time compared to the competition!

To obtain ice cream, frozen yogurt, sorbets, slushes, simply touch a button on the touch screen panel to activate production. A sophisticated software reads information from density sensors and temperature probes and on the basis of these parameters, automatically adjusts the thermodynamic system, freezing motor, ventilation motor and manages storage.

1 kg/1.5 l - 15/20 min
Included accessories:

• 1.7 l removable stainless steel basket.
• Ice Cream Spatula
• Doser
• 2 Shovels (one for removable basket; one for fixed basket)
• Instruction Booklet
• Cookbook with over 20 recipes

Weight 14 kg

you may also be interested in following products: