illy roasted coffee beans, 24 x 250 g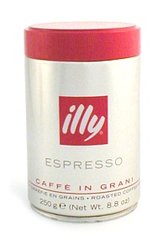 click on image for larger picture
£ 191


list price £ 207 (-7%)
coupon
please enter it at checkout

24 cans of Illy roasted coffee beans, 250 g each for total of 6,0 kg.
Illy whole bean espresso coffee is the perfect choice for coffee connoisseurs who prefer grinding the beans to suit their own individual taste and preparation method.
Every day, 5 million cups of Illy coffee are enjoyed around the world. It's impressive, if you consider that Illy caffè produces a single, exclusive blend of 100 percent Arabica. Just imagine if you lived in Paris or London, what a great joy it would be to find all the aroma and quality of Illy coffee in your cup. It's all due to pressurization, a special way of packaging that maintains the coffee's characteristics and preserves its full fragrance and freshness.
Whether it's whole beans or ground, or whether it's our normal, dark roast or decaffeinated, Illy quality does not change. When you open an Illy container or sit down with a cup of Illy coffee, let your senses and your spirit be intoxicated with the aroma.

you may also be interested in following products: