illy - Decaff coffee pods, 20 x 18 = 360 servings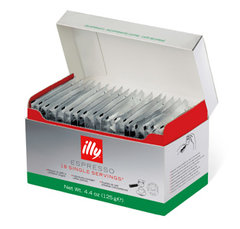 click on image for larger picture
£ 112
coupon
please enter it at checkout
18 DECAFF coffee pods of ground coffee, 20 boxes for total of 360 servings
Illy has made it easy to prepare authentic Italian espresso at home with E.S.E., the innovative Easy Serving Espresso. Simply insert a pre-measured serving of Illy (a pod) into an E.S.E.-compatible espresso machine, and in less than 30 seconds you have rich, robust espresso.
Every day, 5 million cups of Illy coffee are enjoyed around the world. It's impressive, if you consider that Illy caffè produces a single, exclusive blend of 100 percent Arabica. Just imagine if you lived in Paris or London, what a great joy it would be to find all the aroma and quality of Illy coffee in your cup. It's all due to pressurization, a special way of packaging that maintains the coffee's characteristics and preserves its full fragrance and freshness.
Whether it's whole beans or ground, or whether it's our normal, dark roast or decaffeinated, Illy quality does not change. When you open an Illy container or sit down with a cup of Illy coffee, let your senses and your spirit be intoxicated with the aroma.