Rocket Espresso R58 - 110 V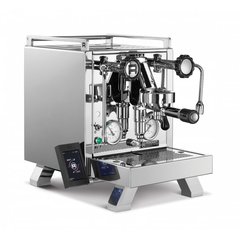 click on image for larger picture
£ 2.168

delivery time 5-10 days
coupon
please enter it at checkout
VAT included, plus shipping
Vat-free delivery to all 110 Volt countries. Just insert 123456789 into the Vat number field in order form. You will see the Vat-free amount (-22%) at checkout before you confirm your order. You will be required to pay local taxes and duties at delivery in your country. Please check your local taxes before placing your order.
POWER PLUGS: all shipments with USA 110 volt plug.
Rocket Espresso R58 110 Volt

Introducing the R "Cinquantotto".
Cinquantotto means 58, the new R 58 from Rocket Espresso.
Dual independently operated PID controlled boilers allowing for optimum extraction of any coffee type or roast style.
Rocket Espresso inclined boiler technology means precise group temperature adjustment and unprecedented levels of temperature stability.
Commercial grade rotary pump draws from the machines internal water reservoir or allows for the machine to have a direct water connection from the water supply.
Machine functions are controlled from the Rocket Espresso communication pod that plugs into the side of the R 58. The pod can be removed to preserve the style of the machine that is Rocket Espresso

you may also be interested in following products: