Segafredo decaff. ground roasted coffee, 20 x 250 g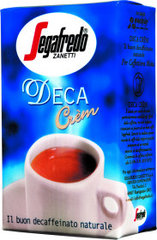 click on image for larger picture
£ 87
coupon
please enter it at checkout
22% OFF IF VAT REGISTERED IN THE EU, VAT FREE TO ALL NON-EU COUNTRIES - (more info) NET PRICES, YOU PAY WHAT YOU SEE - NO ADDITIONAL FEE OR TAX
Segafredo - decaff. ground roasted coffee, 20 x 250 g, total 5 kg
Segafredo Zanetti offers Deca Crèm to those who are particularly sensitive to caffeine but don't want to give up the pleasure of a very good coffee.

Deca Crèm is a blend of the best coffee varieties selected from the origins; the qualities of the raw material are mainained by the natural decaffeinating method which assures an effective extraction of the caffeine whilst maintaining the full and creamy coffee taste.

To know more: Our decaffeinating process is applied to the green coffee beans and uses carbon dioxide, a natural element which we breathe in every day. The CO2 particles, pushed at a very high pressure (over 180 atmospheres; the so called "extremely critical" status), bind with those of the caffeine. Reinstating the standard pressure, the CO2 volatilises together with the caffeine.

you may also be interested in following products: