Stainless Steel/Wood Coffee Tamper - 58 mm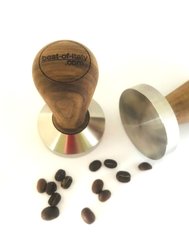 click on image for larger picture
$ 35
coupon
please enter it at checkout
VAT included, plus shipping
Eureka is a company with a long tradition from Florence. Eureka has been producing coffee grinders since 1920 and is now the world's leading manufacturer. Elegant design, innovative construction and technology, that is the Eureka coffee grinder's recipe for success. All Eureka coffee grinders are made by hand, a fine example of Made in Italy.
Stainless Steel/Wood Coffee Tamper - 58 mm
Nice ergonomic design, easy to hold and to use, excellent value for money!