Imperia Chef in Casa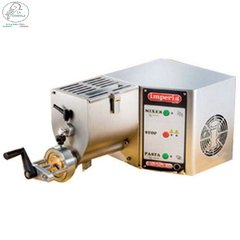 click on image for larger picture
$ 2.737,50
An icon of Italian quality and tradition from 1932.
The Imperia chromium-plated steel pasta machine is precision engineered in Italy, sturdy and built to last.
With the Imperia and its "Duplex" cutter, you can make pasta dough in 6 different thicknesses and two types of pasta: tagliatelle and fettuccine Using the accessories of the Imperia, you will be able to prepare a vast range of pasta dishes: round spaghetti, capelli d'angelo, tagliatelle, trenette, fettuccine, lasagnette, pappardelle, ripple-edged reginette, raviolini, ravioli, cavatelli, gnocchetti sardi and rigatelli.
The Imperia pasta machine is amazingly easy to use and highly versatile, making it possible to prepare fresh home-made pasta in just a few minutes!
if you have a
coupon
please enter it at checkout
22% OFF IF VAT REGISTERED IN THE EU, VAT FREE TO ALL NON-EU COUNTRIES - (more info) NET PRICES, YOU PAY WHAT YOU SEE - NO ADDITIONAL FEE OR TAX
Imperia Chef in Casa, 4 dies included

Kneads, makes the Pasta dough sheet and draws long and short pasta.
Imperia Chef in Casa is a compact and reliable counter top machine, suitable for both professional kitchens and anyone who likes making homemade pasta.
Chef-in-Casa kneads all types of flour and produces long and short pasta changing the die.
The machine comes with a die for a 170 mm wide sheet of pasta dough and a manual rotating pasta knife for short pasta. The external framework is an anodised aluminium. Full compliance with current safety regulations.
Dimensions: 30 kg, 300 (H) x 290 (W) X 550 (D) mm