Italcaffé Dolce Crema - whole beans (12 Kg)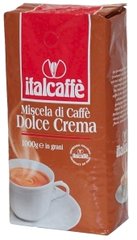 click on image for larger picture
$ 181
coupon
please enter it at checkout
VAT included, plus shipping
Italcaffé Dolce Crema - whole beans (12 Kg)
Great tasting, high quality, freshly roasted whole bean coffee, delivered direct to your doorstep.
Very creamy Espresso coffee, characterized by a sweet, rich and full-bodied aroma.
It is available in 1.000 g. vacuum packages with unidirectional air valve.
Italcaffè coffee roasters are suppliers of premium coffee blends for your bar, coffee shop, hotel or restaurant.