Izzo Alex Duetto IV Plus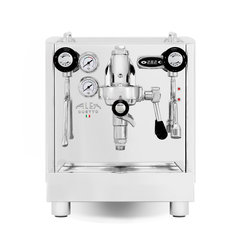 click on image for larger picture
$ 2.761
coupon
please enter it at checkout
VAT included, plus shipping
VAT-FREE FOR ALL COUNTRIES OUTSIDE the EU and UK: Just insert the number 123456789 into the company Vat field in the order form. You will see your VAT-FREE amount (-22%) at the checkout. IMPORTANT: Although you will save the Italian VAT when ordering, you will be required to pay local taxes and duties at delivery in your country. Please check your local taxes before placing your order.
POWER PLUGS: all shipments to the UK and Ireland with plug adapter (BEAB approved), all other international shipments with standard European plug (you just need to buy local adapter plug).
At the foot of Vesuvius, Izzo Caffè was founded in Naples in 1979. This is where real Neapolitan espresso is produced with passion. Over the years, Izzo Caffè has developed a wide range of products with worldwide success.
Izzo Alex Duetto IV Plus
New PID temperature controller with shot timer integrated: it's possible to choose your favourite coffee brewing time for your espresso
BODYWORK: All stainless steel mirror (AISI 304).
ELECTRONICALLY CONTROLLED: Microprocessor controlled automatic level control of boilers and fresh water reservoir, with low water level indication by noise signal.
BOILERS: Dual boiler system. Steam and hot water 1.8 litre capacity. Brew (group) 0.58 liter capacity.
PUMP TYPE: Super silent rotary pump.
SAFETY VALVE: Fully certified commercially rated safety valve.
PRE-INFUSION: Mechanical pre-infusion system for the extraction of coffee with optimal aroma.
ANTI-BURN STAINLESS STEEL STEAM WAND: Easy cleaning as milk doesn't bake on wand; more efficient steam; as heat is not dissipated around the wand.
PRESSURE GAUGE: One dedicated gauge for pump pressure and one for service boiler pressure control.
TEMPERATURE CONTROL OF BOILERS: Electronic control by PID sensor inside the boilers for the precise control of the temperatures.
MAINTENANCE: Removable upper and lower grid for easy access to underside of the machine.
WATER SUPPLY: 3 liter fresh water reservoir or alternatively direct water connection by turning the control switch with full drip tray drainage system.

Width (mm): 360
Hight (mm): 400
Depth (mm): 430
Weight: 33

you may also be interested in following products: