Nemox Gelato Pro 1700 UP - black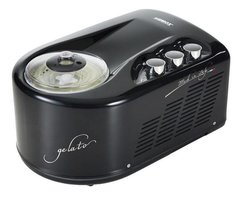 click on image for larger picture
$ 1.189
coupon
please enter it at checkout
VAT included, plus shipping
VAT-FREE FOR ALL COUNTRIES OUTSIDE the EU and UK: Just insert the number 123456789 into the company Vat field in the order form. You will see your VAT-FREE amount (-22%) at the checkout. IMPORTANT: Although you will save the Italian VAT when ordering, you will be required to pay local taxes and duties at delivery in your country. Please check your local taxes before placing your order.
POWER PLUGS: all shipments to the UK and Ireland with plug adapter (BEAB approved), all other international shipments with standard European plug (you just need to buy local adapter plug).
The ice machine manufacturer Nemox from Italy is known worldwide for its quality. Professional or household use, Nemox is the right place for you. Nemox was founded in 1986, since then over 6,000,000 ice machines have rolled off the assembly line.
The series Nemox Gelatopro 1700 and Nemox Gelato NXT1 are particularly popular for ice cream in households. In the professional area for ice cream parlors, bars and restaurants, the Nemox Gelato series offers everything the ice cream heart desires. Making ice cream yourself made easy.
Nemox Gelato Pro1700 Up –the new features, the ultimate 50s design.
- Prepare and pour the ingredients, start the machine. That's all !
- Gelato Pro 1700 churns, stirs and makes it all for you!
- When your Gelato is ready an exclusive electronic control keeps it mixed and at the right temperature as long as needed.
- The lid has a feature to adjust the amount of air and change the consistency of the ice cream.
- A more powerful refrigeration system allows preparation in an even shorter time and with outstanding results Gelato, Sorbets and Frozen Yogurt.
- Gelato Pro 1700 also works on manual mode to leave room for your creativity.
- State of the art design, beautiful, in a sturdy aluminium body.
- Comes with a large 1.7 l. (1.9 Qt) capacity aluminium removable bowl and an ice cream spatula.
- The refrigeration system complies with environmental regulations protecting the ozone layer.
- A triple step varnish painting, provides a scratch resistant surface for the aluminum body.
-The trendy colors and the overall design of the body and switches make the GELATO PRO 1700 Up an desirable piece of interior design.
Product video