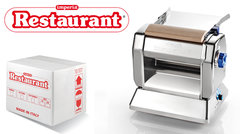 click on image for larger picture
$ 1.530,61


list price $ 1.673,19 (-8%)
if you have a
coupon
please enter it at checkout
SPECIAL! check ship cost? - VAT incl.
22% OFF IF VAT REGISTERED IN THE EU, VAT FREE TO ALL NON-EU COUNTRIES - (more info) NET PRICES, YOU PAY WHAT YOU SEE - NO ADDITIONAL FEE OR TAX
Imperia RBT 220 electronic
La Sfogliatrice series - The most popular pasta maker among chefs and conoissuers around the world.
All steel motorized (230 Volts or 110Volts) roller machine for restaurants and professionals, produces up to 12Kg. of pasta in an hour. Prepares sheets of 9 inches.
And maximum roller opening of 3/8 in. has adjusting knob with ten numbered thickness settings.
- Angel Hair 1,5 mm
- Tagliatelle 2 mm
- Linguine 4mm
- Fettuccine 6,5 mm
- Lasagnette 12 mm
A dough mixer (1Kg in five minutes).