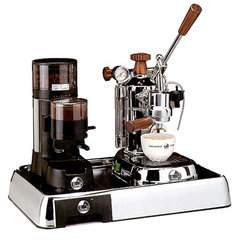 click on image for larger picture
$ 1.294,95
if you have a
coupon
please enter it at checkout
check ship cost? - VAT incl.
22% OFF IF VAT REGISTERED IN THE EU, VAT FREE TO ALL NON-EU COUNTRIES - (more info) NET PRICES, YOU PAY WHAT YOU SEE - NO ADDITIONAL FEE OR TAX
LA PAVONI Special Offer - PLH plus Grinder plus Base

NEW MODEL WITH LARGER GROUP AND FILTERS FOR IMPROVED TEMPERATURE STABILITY AND ABILITY TO HOLD MORE COFFEE.


Set of machine and grinder on a base.
JDL Jolly Doser Lusso

Coffee hopper in poly-carbonate, capacity 250 gr., extractable container for ground coffee in poly-carbonate, base in abs plastic, cover stripe in polished copper, flat mills diam. 50 mm., grind selector, dosing device with correct ground coffee dose. Colour : chrome.
PLH Professional Lusso wooden handgrips
Model Professional allows 16 cups of espresso to be made consecutively. Boiler and group in chromed brass, chromed base, safety valve, steam jet interchangeable with Automatic Cappuccino maker, sight glass, manometer. Handles: lever, filter holder, boiler cap, steam knob in rosewood. Drip tray in ABS plastic, grill for cups in steel.
BL Base Lusso for Machine and Grinder