Profitec Pro 800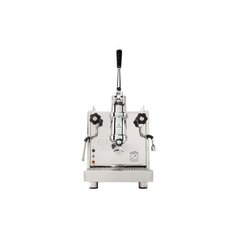 click on image for larger picture
$ 3.290

delivery time 5-10 days
coupon
please enter it at checkout
VAT included, plus shipping
VAT-FREE FOR ALL COUNTRIES OUTSIDE the EU. Please check your local taxes and duties before placing your order.
POWER PLUGS: all shipments to the UK and Ireland with plug adapter (BEAB approved). All 110 Volt shipments with USA power plug.
The Pro 800 from Profitec blends the class of old-world tradition with modern advantage, offering a machine with barista-level control and commercial grade components.


The Profitec Pro 800 is a lever espresso machine with a 7.7 kg brew group, a massive 3.5-liter steam boiler, and a vibratory pump. It can be either direct plumbed or run on its internal 3-liter reservoir.
WHAT'S INCLUDED
Single-spouted portafilter
Double-spouted portafilter
Bottomless portafilter
Single basket
Double basket
Triple basket
Braided plumb-in line
Drip tray drain attachment
Grouphead brush
Water test strip
DETAILS
Manufactured near Heidelberg, Germany
Massive lever brew group (17.1lb/7.8kg)
Copper boiler with a volume of 3.5L
PID-control for regulating the boiler temperature
Switchable from water tank to a fixed water connection
Drip tray with about a 1L capacity
Connection to a water drainage is possible
Water tank with about a 3L volume
Low wear and tear rotary valves
Boiler pressure gauge
Large, removable cup tray
Height adjustable feet made of stainless steel
- MANUFCTURER: Profitec
- MODEL: PRO 800
- MATERIAL: Stainless Steel
- AVAILABLE COLORS: Polished Steel
- WIDTH: 34 cm
- DEPTH: 58 cm
- WEIGHT (net): 35.5 kg
- WATTS: 1600W
- PID: Yes
- PRESSURE PROFILE: No
- PORTAFILTER SIZE: 58 mm
- INCLUDED PORTAFILTERS: 3 (single + double + bottomless)
- AVAILABLE PORTAFILTERS: 3
- WATER SOURCES: Internal reservoir / plumbed in
- RESERVOIR SIZE: 3 L
- BOILER CONFIGURATION: Single boiler, dual use
- NUMBER OF BOILERS: 1
- STEAM BOILER CAPACITY: 3.5 L
- STEAM BOILER MATERIAL: Copper
- PUMP TYPE: Vibration Pump
- CUP WARMER: Yes (passively heated)

you may also be interested in following products: