Quick Mill - QM67 0992 Pid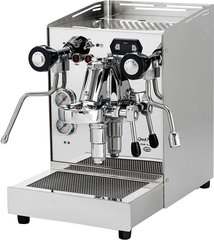 click on image for larger picture
$ 2.368
coupon
please enter it at checkout
VAT included, plus shipping
VAT-FREE FOR ALL COUNTRIES OUTSIDE the EU and UK: Just insert the number 123456789 into the company Vat field in the order form. You will see your VAT-FREE amount (-22%) at the checkout. IMPORTANT: Although you will save the Italian VAT when ordering, you will be required to pay local taxes and duties at delivery in your country. Please check your local taxes before placing your order.
POWER PLUGS: all shipments to the UK and Ireland with plug adapter (BEAB approved), all other international shipments with standard European plug (you just need to buy local adapter plug).
Quick Mill - QM67 0992 Pid
The manufacturer has donated two boilers to the device. Both boilers are equipped with an electronic PID temperature control. The PID control ensures that the set temperature is adhered to precisely. These temperatures can be set very easily using two push buttons and a display and invite you to experiment with different brewing temperatures.
The pump pressure is also very easy to set using an adjusting screw. All you have to do is lift the lid and you can try out even more. The pressures actually achieved can be read off easily using a double manometer.
Economical and user-friendly: the hot water boiler can be switched on separately, which can save a lot of energy. You can save even more by using the stand-by function, which automatically switches off the machine after a certain period of time.
The purchase of a Quick Mill machine is not only worthwhile because of all the technical subtleties. The lifespan in particular is legendary: 20 years and more are not uncommon with good care.
Included:
Portafilter with 1-cup spout
Portafilter with 2-cup spout
1-cup strainer insert
2-cup strainer insert
Blind sieve for cleaning the brew group
Stainless steel tamper with wooden handle
Cleaning brush
4-hole steam nozzle to change
Operating instructions on USB card
Technical specifications:
Dimensions (W x D x H) 42 x 43.5 x 27.7 cm
Max. Cup height: 80 mm / 85 mm (1 spout / 2 spout)
Tank capacity: 2.3 liters
Connection cable: 1.5 m
Empty weight: 24 kg
Connection values: 2200 W - 230 V.
Heating capacity coffee: 800 watts
Heating power steam / hot water: 1400 watts
Case: stainless steel

you may also be interested in following products: