Rancilio Rocky Doser Grinder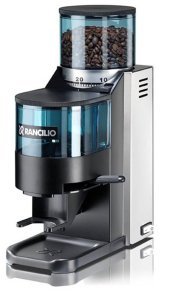 click on image for larger picture
$ 288,90
VAT included
$ 236,80
VAT free

delivery time 3-6 days
VAT-FREE FOR ALL COUNTRIES OUTSIDE the EU. Shipments to UK Vat-free (-22%). UK customers must pay UK Vat at delivery. MORE INFO here
POWER PLUGS: all shipments to the UK and Ireland with plug adapter (BEAB approved)
WARRANTY (2 years): Best of Italy covers all costs, including transport.
Call our English hotline +39 339 8860577
Rancilio was founded in Italy in 1927 and produces high quality portafilter espresso machines and coffee grinders. With innovative technology and excellent design, professional portafilter espresso machines and coffee grinders are created. The Rancilio Silvia has almost cult status.
The Rancilio Rocky Doser Model grinder is specifically designed for grinding espresso coffee beans. It's modelled after commercial coffee grinders and is capable of grinding beans into a powder. This is especially important when you are grinding coffee for high-end espresso machines like the Rancilio Silvia.

The Rocky grinder also works well for most semi-commercial and heavy commercial espresso machines. The Rancilio Rocky burr grinder uses slow turning commercial grade burr grinding wheels to crush the coffee bean into uniform coffee grounds. This is better than a standard blade grinder which usually does not produce uniform grind sizes. Consistent grind size is important to promote better taste and aroma. It is especially important if you are grinding coffee for an espresso machine which needs a fine and consistent grind.

The Rocky's grinding wheels are stronger than any coffee grinders in its class offering excellent performance. Bearing structure in die-cast aluminium - Grinders of special Hardened steel.

Technical Specifications:

- Dimensions : 120X250X350 - 5"x10"x14.
- Weight: 7 Kg. - 245oz.
- Power: 230V 50/60HZ 140W
- Bean hopper, capacity : 300 gr.
- Grinder burrs, diameter: 50 mm
- Output: 2.5-3.5 kg/h
- Adjustable dose approx.: 6 gr.

you may also be interested in following products: