Rancilio Silvia Pro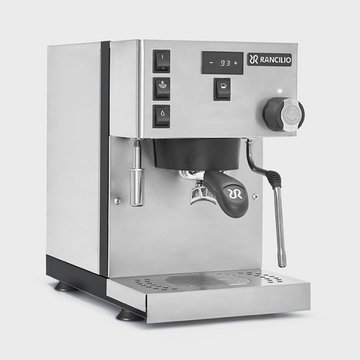 click on image for larger picture
$ 1.476,60
VAT included
$ 1.210,33
VAT free

delivery time 3-6 days
VAT-FREE FOR ALL COUNTRIES OUTSIDE the EU. Shipments to UK Vat-free (-22%). UK customers must pay UK Vat at delivery. MORE INFO here
POWER PLUGS: all shipments to the UK and Ireland with plug adapter (BEAB approved)
WARRANTY (2 years): Best of Italy covers all costs, including transport.
Call our English hotline +39 339 8860577
Rancilio was founded in Italy in 1927 and produces high quality portafilter espresso machines and coffee grinders. With innovative technology and excellent design, professional portafilter espresso machines and coffee grinders are created. The Rancilio Silvia has almost cult status.
The Rancilio Silvia Pro is the new espresso machine with a brew group that offers precision and control over every shot. The Silvia Pro is a blend of the professional performance of Rancilio espresso machines and the rugged simplicity of the Silvia. With two PIDs, a digital display, two independent kettles and a larger selection of coffee solutions, the Silvia Pro offers a special espresso in café quality at home.
Furnishing
The Rancilio Silvia Pro is characterized by high-quality professional equipment and high-performance components such as ergonomic portafilter, insulated kettles, multi-directional steam wand and steam button made of stainless steel, cup tub and brass brewing unit. The electronic control of the water and the independent regulation of different temperatures for both coffee extraction and steam delivery are easy to use using the display buttons. Two PID controllers (proportional-integral-derivative) in the coffee kettle and in the new steam kettle keep the heat constant and stable and offer extremely precise temperature stability for every shot.
The Silvia PRO dual boiler has two separate boilers, both of which are equipped with a PID control: One boiler is used to heat the water for coffee and the other is a steam boiler for hot water and steam.
The display shows temperature levels, a shot timer, a water level alarm and an alarm function with which the machine can be switched on at a preset time.
The operation
The water temperature for coffee and steam can easily be set using the display buttons.
Powerful steam
Steam like a professional with powerful steam supply: cappuccino, macchiato and all espresso-based milk beverages can easily be made with juicy foam and creamy steamed milk.
Household portafilter with the following properties:
Dual boiler portafilter
Brass ring brew group
Vibration pump
PID control
2.0 liter water tank
Design: dual boiler system
Pump type: vibration pump
Valve closure: rotary valve
Water connection: water tank
Water tank capacity: 2.0 liters
Brew group design: Ring brew group made of brass
Pid control: yes
Heating time: approx. 5 min.
Power: 1300 watts
Weight: 20.0 kg
Dimensions (W / H / D): 25.0 cm x 39.0 cm x 42.0 cm
Color: Inox
Case: stainless steel