Nemox Gelato Chef 2500 Plus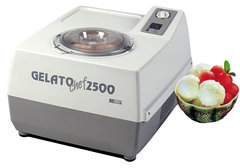 klicka på bilden för större bild
$ 1.112,50
kupongrabatter
i online-kassan
22% MOMSAVDRAG MED VAT-NUMMER – (mer info) Nettopris, du betalar priset du ser-alla produkter har stickpropp för svenska eluttag
Nemox Gelato Chef 2500 Plus
Professionell glassmaskin från italienska Nemox. Nemox Gelato Chef 2500 är en maskin avsedd för hårt bruk, och som bl.a. utmärker sig genom att ha en skål som rymmer hela 2,5 l.
Nemox Gelato Chef 2500 är utrustad med en mekanisk 60 minuters timer och extra inbyggd säkerhet, eftersom vingen stannar, när locket avlägsnas.
Allt i allt en riktig "arbetshäst" avsedd fört hårt och varaktigt bruk i exempelvis mindre restauranger eller till den passionerade hemmaproducenten.
Vægt: 18,0 kilo
Strøm: 230V 50Hz 220W
Produktionstid: 20-40 min.
Kompressor: 6,00 cc
Innehåll i skålen: 2,5 liter
Höjd: 30,0 cm
Färdig mängd: 1.250 gram
Djub: 42,0 cm
Bredd: 37,0 cm
Uttagbar skål: Ja


GELATO CHEF 2500 Automatic. Professional Quality and Performances.

For those who like to have the best and … even more

A professional appliance for preparing 2.5 litres ices cream, sorbet and granita of superb quality. Preparations can be obtained either in the fixed stainless steel bowl or in the removable aluminum bowl delivered with the machine. The use of the removable bowl allows preparing different flavours in a short time. Innovative and elegant design. Maximum level of reliability. When the lid is removed, the paddle stops automatically. The body is in attractive hardwearing plastic.

Mechanic 60' timer- Suitable for continuous use, it allows preparing 2 Kg. ice cream per hour.
TECHNICAL SPECIFICATIONS

Rating

230V 50 Hz 220W
120V 60 Hz 220W

Thermal cut-out: refrigerating and mixing unit

*

Compressor unit

6,00 cc

Forced ventilation

*

Reduction gear box

*

Paddle induction motor

RPM 63

Safety catch device (paddle stops when lid is opened)

*

AISI 304 stainless steel fixed bowl

2,5 l

Aluminium removable bowl

2,5 l

Max. quantity of ingredients

1,25 Kg

Churning time

20 - 40 min

Paddle mechanic timer

60 min

Appliance body

ABS

Dimensions (W/D/H)

42x37x30 cm

Weight

15,5 Kg.

Ice cream spoon

*

Instruction book / Recipe book

*

Coloured gift box

60x50x40 cm - 18 kg