Italcaffé - Coffee Capsules - Espresso Arabica - 120 capsules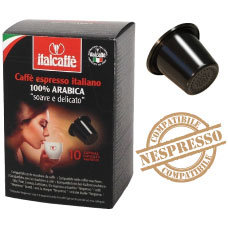 klicka på bilden för större bild
$ 43,99
kupongrabatter
i online-kassan
22% MOMSAVDRAG MED VAT-NUMMER – (mer info) Nettopris, du betalar priset du ser-alla produkter har stickpropp för svenska eluttag
Coffee Capsules - Espresso Arabica – Nespresso compatible
Italcaffè espresso coffee capsules are the result of an accurate selection of the best varieties of the Arabica species, known for its low caffeine content. Its pleasant rich and long-lasting aroma make it the favourite coffee of the real connoisseur.
Roasted and ground 100% Arabica single Italian espresso coffee capsule.
Capsules compatible with Citiz, Pixie, Essenza, Lattissima, U and Maestria Nespresso® brand coffee machines for home use.
The trademark Nespresso® is not the property of Italcaffè SpA or of Websel or other connected companies.