Italcaffé - Coffee Capsules - Decaffeinated - 10 capsules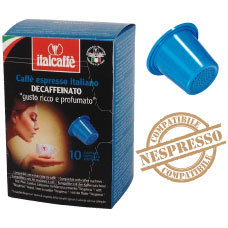 klicka på bilden för större bild
$ 3,66
kupongrabatter
i online-kassan
22% MOMSAVDRAG MED VAT-NUMMER – (mer info) Nettopris, du betalar priset du ser-alla produkter har stickpropp för svenska eluttag
Coffee Capsules - Decaffeinated – Nespresso compatible
Italcaffè espresso decaffeinated capsules are made with a special blend of high quality coffees with an extraordinary aroma. You won't miss the cream, body and taste of the best espresso bar coffees.
Roasted and ground decaffeinated single Italian espresso coffee capsule.
Capsules compatible with Citiz, Pixie, Essenza, Lattissima, U and Maestria Nespresso® brand coffee machines for home use.
The trademark Nespresso® is not the property of Italcaffè SpA or of Websel or other connected companies.