Nemox Gelato Chef 3L AUTOMATIC I-Green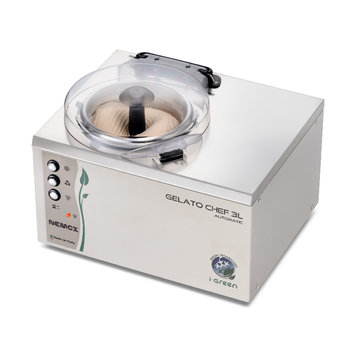 click on image for larger picture
$ 1.532,60
VAT included
$ 1.256,23
VAT free

Delivery time on request
VAT-FREE FOR ALL COUNTRIES OUTSIDE the EU. Shipments to UK Vat-free (-22%). UK customers must pay UK Vat at delivery. More info here
POWER PLUGS: all shipments to the UK and Ireland with plug adapter (BEAB approved)
WORLDWIDE WARRANTY (2 years): Best of Italy covers all costs, including transport.
Call our English hotline +39 339 8860577
The ice machine manufacturer Nemox from Italy is known worldwide for its quality. Professional or household use, Nemox is the right place for you. Nemox was founded in 1986, since then over 6,000,000 ice machines have rolled off the assembly line.
Nemox, using the latest technologies in the refrigeration industry, has created a new range of 100% ecological batch freezers capable of obtaining excellent results. The i-Green compressor ice cream makers are able to produce the cold necessary for the production of ice cream. The refrigeration system is able to provide a high number of refrigerators in a very short time, giving the possibility to have an ice cream, sorbet, granita or frozen yogurt in about 20 minutes. The machines are also able to produce, also thanks to the availability of the removable basket, more flavors in a short time.

The latest development in the Nemox range and the result of more than 30 years of experience in design and manufacturing of gelato machines for both household and professional use.


Gelato Chef 3L AUTOMATIC prepares your gelato and, when ready, it automatically stores it in the machine, and keep it at the right temperature as long as needed!


The software developed by Nemox allows to detect the density of your gelato. When the preparation has reached a determined consistency, the software automatically stops the mixing motor and switches to storage mode.


You can process up to 800/1000g of mixture in 25-35 minutes, using the fixed bowl or the handy removable bowl; both made of 18/10 stainless steel.


The machine's operation is very flexible, it can be used in fully automatic or manual mode.
Production per cycle
Every 30-35 minutes 0,85 kg (1,5 l.)
Production per hour
1,7 kg / 3 l.
Dimensions 405X325x300 mm
Net Weight 15,4 kg
Every 30-35 minutes 0.85 g (1,5 l.)
1,5 kg / 3l.
460x530x340 mm
18,4 kg
8024872139134

Capacity of the different Nemox models:

CHEF 3L
30-35 minutes about 850 g, per hour 1.5 kg / 3 L

CHEF 5L
20-30 minutes about 1 kg, per hour 2 kg / 3.2 L

3K TOUCH
15 minutes about 800 g, per hour 3.4 kg / 4.8 l

4K TOUCH
15 minutes about 1 kg, per hour about 4 kg / 5.6 L

5K CREA SC
15 minutes about 1.25 kg, per hour 5 kg / 7 L
6K CREA
15 minutes about 1.5 kg, per hour 5 kg / 7 L

10K CREA
15 minutes about 2 kg, per hour 10 kg / 14 L

15K CREA
15 minutes about 3 kg, per hour 15 kg / 20 L


you may also be interested in following products: