Profitec Pro 300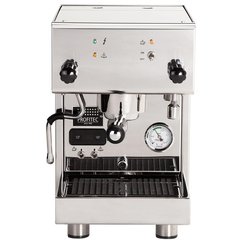 click on image for larger picture
$ 1.886

delivery time 5-10 days
coupon
please enter it at checkout
VAT included, plus shipping
VAT-FREE FOR ALL COUNTRIES OUTSIDE the EU. Please check your local taxes and duties before placing your order.
POWER PLUGS: all shipments to the UK and Ireland with plug adapter (BEAB approved). All 110 Volt shipments with USA power plug.
The Pro 300 is a dual boiler, semi-automatic espresso machine with a ring brew group. Depending on your needs, the Pro 300 may be used as a single-circuit machine or a dual boiler machine. The advantage is the short, 5 minute heat-up time for making espresso. The stainless steel, steam- and hot-water boiler may be activated or switched off at any time. The desired brew temperature can be regulated via the PID-display. The display shows the espresso brewing time in seconds, as well.
WHAT'S INCLUDED
- Profitec 58mm single spouted portafilter
- Profitec 58mm double spouted portafilter
- Single basket
- Double basket
- Grouphead brush
- Backflush blank
- Water test strip
DETAILS
- Dual insulated boilers
- PID-display to regulate the temperature of the coffee boiler
- Built-in shot timer
- Ulka EX5 vibration pump
- Boiler pressure gauge
- 'No-burn' steam wand
- Steam boiler can be switched on or off separately
- 15 amp model heats both boilers at the same time, super fast warmup and steam recovery
- Low water shut off
- Brew boiler: Brass (stainless steel group head), .325L
- Steam boiler: Stainless steel, .75L
- Reservoir: 3L (BPA Free)

MANUFCTURER: Profitec
MODEL PRO 300
MATERIAL: Stainless Steel
AVAILABLE COLORS: Polished steel
WIDTH: 25.5 cm
DEPTH: 41.5 cm
HEIGHT: 38.5 cm
WEIGHT (net): 18 kg
WATTS: 1000 W service boiler, 1200 W brew boiler
PID: Yes
PRESSURE PROFILE: No
PRE-INFUSION: Yes
PORTAFILTER SIZE: 58 mm
INCLUDED PORTAFILTERS: 2 (single + double)
AVAILABLE PORTAFILTERS: bottomless
WATER SOURCES: water reservoir
RESERVOIR SIZE: 3 L
BOILER CONFIGURATION: dual boiler
NUMBER OF BOILERS: 2
BREW BOILER CAPACITY: 0.325 L
STEAM BOILER CAPACITY: 0.75 L
BREW BOILER MATERIAL: Brass
STEAM BOILER MATERIAL: Stainless Steel
PUMP TYPE: Vibration pump
CUP WARMER: Yes (passively heated)

you may also be interested in following products: