Profitec Pro 500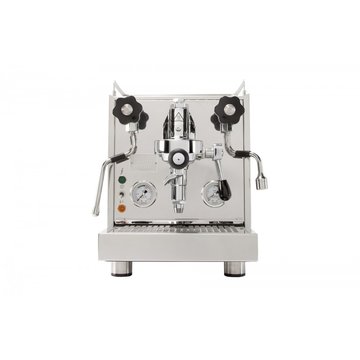 click on image for larger picture
$ 1.705,20
VAT included
$ 1.397,70
VAT free

delivery time 3-6 days
VAT-FREE FOR ALL COUNTRIES OUTSIDE the EU. Shipments to UK Vat-free (-22%). UK customers must pay UK Vat at delivery. More info here
POWER PLUGS: all shipments to the UK and Ireland with plug adapter (BEAB approved)
WARRANTY (2 years): Best of Italy covers all costs, including transport.
Call our English hotline +39 339 8860577
Profitec was founded in 1985 and initially specialized in selling Italian espresso machines. But the passion for Italian espresso machines quickly became so big that we decided to build our own machines in 1990.

Thanks to years of experience, we can apply our know-how to our machines in perfect craftsmanship and build exclusive espresso machines for your home.
The Pro 500 is not only an optical eye-catcher; it is very user-friendly as well. It has an extremely large cup tray which is completely removable in order to be able to comfortably fill the water tank. No need to inconveniently remove the cups each time. The nostalgic rotary valves are spring-loaded, making it impossible to overwind them. Thus, they are free from wear and tear. Pro 500 is fitted with a high-end, massive E61 brew group, weighing in at 4.5kg (9.9lbs.). Due to the 'No-burn' steam and hot water wands, only the steam and hot water nozzles get hot. This allows for an easy cleaning of the steam wand because milk will barely stick to it. The heat exchanger system lets you make espresso, and steam or get hot water at the same time. When making espresso, water is not taken from the boiler but always from fresh water out of the 3L tank due to the heat exchanger thermosyphon system.
NEW: In addition, the Pro500 now has a PID control (behind the drip tray) to adjust the steam temperature in the boiler. This allows you to adjust the temperature for milk frothing as desired.
WHAT'S INCLUDED
Double-spouted commercial portafilter
Single-spouted commercial portafilter
Single basket
Double basket
Blind basket
Two hole steam tip
Cleaning brush
DETAILS
PID controlled heat exchanger
E61 brew-group
Boiler and pump pressure gauges
High-end, 'no-burn' steam and hot water wands
Automatic shut-off by way of low water volume sensor
Removable cup tray
Boiler: Stainless steel, 2L
Reservoir: 3L with low water sensor, BPA Free
Tag: Profitec PRO 500
- MANUFCTURER: Profitec
- MODEL: PRO 500
- MATERIAL: Stainless Steel
- AVAILABLE COLORS: Polished Steel
- WIDTH: 30.2 cm
- DEPTH: 55.5 cm
- HEIGHT: 39.3 cm
- WEIGHT: (net) 23.5 kg
- WATTS: 1400 W
- PID: Yes
- PRESSURE PROFILE: No
- PRE-INFUSION: Yes
- PORTAFILTER SIZE: 58 mm
- INCLUDED PORTAFILTERS: 2 (single + double)
- AVAILABLE PORTAFILTERS:
bottomless portafilter
- WATER SOURCES: water reservoir
- RESERVOIR SIZE: 3 L
- BOILER CONFIGURATION: Heat exchanger
- NUMBER OF BOILERS: 1
- STEAM BOILER CAPACITY: 2 L
- STEAM BOILER MATERIAL: Stainless Steel
- PUMP TYPE: Vibration Pump
- CUP WARMER: Yes (passively Heated)

you may also be interested in following products: